Revial
Male sexual potency (Core substantive program)
Revial™ is a 8 to 12 weeks program intended to improve the erection capacity and firmness in men. Fundamentally it allows to restore the anatomical integrity of the corporal smooth muscles that progressively deteriorate with age. Revial™ also contains natural compounds that noticeably increases sexual energy and performances.
SUPPLEMENT FACTS
Serving size: 3 capsules / Servings per container: 40
Revial™ Phyto-complex
Proprietary botanical formula with standardized plant extracts: Ptychopetalum olacoides extract std. (10:1), zingiber officinale extract std. to 5% gingerols, kaempferia parviflora extract std. to 4% 5,7-dimethoxyflavone, paullinia cupana extract std. (2:1), scutellaria baiclensis extract std. to 20% baicaline (10:1), pinus pinaster bark extract std to 70% proanthocyanidins.
1830 mg
*
* Daily value not established
Other ingredients: Magnesium stearate, gelatin (capsules)
As a dietary supplement take 3 capsules twice daily before meals or as directed by a health care professional. Use regularly and without interruption for 8 weeks. For best results take on empty stomach. Men over 50 with moderate to severe erection problems should take 4 capsules twice daily for 12 weeks.
Caution:Men with a medical condition should consult a health care professional before using this product.
PRODUCT DETAILS
Aging induces changes in the structure of the penis that leads to weaker erections. Revial™ can reverse the process.
An erection occurs when the potential spaces in the corpora cavernosa stretch with the influx of blood which causes enlargement and rigidity of the penile shaft. These spaces where the blood gets trapped are lined with smooth muscles that are able to distend when they relax. This is the key mechanism of penile erection and the blood flow into the penis is directly affected by the number of smooth muscles cells.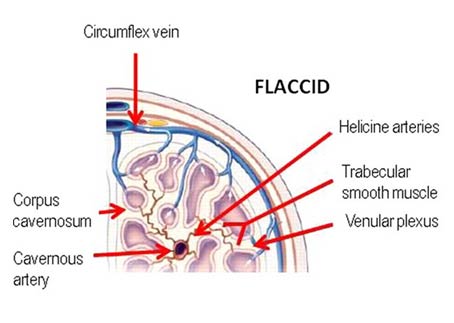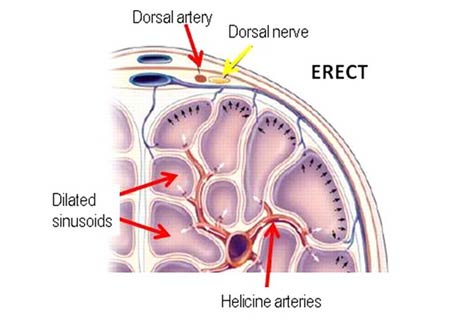 Aging but also smoking, diabetes and hypertension gradually induce a loss of the corporal smooth muscle cells (SMCs). Studies have found that with age, the SMCs progressively disappear and are being replaced by inert fibrous tissue leading to smooth muscle atrophy and erectile dysfunction. It is estimated that once 15 -20% of the corporal SMCs have been lost, venous leakage or corporal veno-occlusive dysfunction (CVOD) becomes clinically apparent.
The Massachusetts Male Aging Study (MMAS) shows that about 40% of men in their 40's suffer from ED with a prevalence increasing by about 10% per decade. It means that a man in his 50's has a 50% chance of having ED and a man in his 60's has a 60% chance, and so on. These findings suggest that the deterioration of the SMCs begin at an earlier age than previously thought and it would explain why doctors see men in their 20's and 30's complaining of some form of ED. The cause could in some cases be physiological rather than psychological.
More Information

| | |
| --- | --- |
| Subtitle | Male sexual potency (Core substantive program) |
| In Stock Date | N/A |